ABOUT US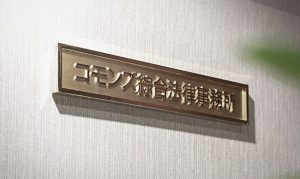 Commons Law Office is a boutique corporate law firm based in Tokyo, Japan. We have been continuously supporting our clients' businesses since our establishment as a corporate law firm in 1978. Our clients are diverse and include early startups, family companies, non-listed large companies, foreign capital companies and listed companies. Our clients are also diverse and include manufacturing, technology, systems development, securities, fashion, publishing, retail and trading companies.
Our integrity lies not only in being experienced legal professionals, but also in providing frank and honest advice that is in line with the history, organization, culture and business of each individual client's company, based on our long-term relationship and trust with our clients. We maintain our relationship with our clients for the long-term, in most cases, more than 20 years.
We maintain prompt communication with our clients in a close manner through flexible methods, including not only face-to-face meetings, telephone calls and e-mail, but also video conferences using Zoom, Teams, and various chat software and by having an account in our client company's groupware.
We are a small law firm but our team is comprised of extremely diverse lawyers, including those who are knowledgeable about management itself, litigation professionals, and those with extensive experience and knowledge of legal services in the United States, Europe and Asia.
These lawyers all work together as a team to resolve the problems faced by our clients. In addition, if the knowledge of experts from outside our office is useful to our clients, we are keen to collaborate with them to provide the best advice to our clients, rather than attempting to resolve the issue internally.